Giveaway of the Day - I love Kittens!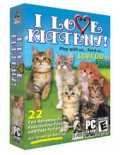 December 6, 2008
These precious kittens need your help! Just like a good mother cat, teach them the lessons they need to learn with 6 training programs, 8 great exercises and 8 fun kitty games! Which kitten is your favorite?
Choose your favorite kitten from the litter and play 22 different fun adventure, puzzle and action games with your very own kitten!
They're all so cute! Orange tabby, charcoal grey, black & white or grey tabby: Why not choose them all? Play with your friends or keep all the kittens for yourself!
Features of I LOVE Kittens! include:
Teach cute kittens lessons they need to learn with 8 Kitten Training Programs;
Take good care of your Kitten and keep him/her safe, happy and healthy with 6 Great Kitten Exercises;
Play with your kitten with Fun Games;
Earn a treasure chest of Rewards.
| | |
| --- | --- |
| User Rating: Rate It! | 41 comments |
| System Requirements: | Windows 98/SE/ME/2000/XP/Vista; Athlon Processor/Pentium III Processor with 1 GHz; 128 MB RAM; 64 MB Video Card; Sound Card |
| Publisher: | Tri Synergy |
| Homepage: | http://www.trisynergy.com... |
| File Size: | 310 MB |
| Price: | $19.95 |
This software was available as a giveaway on December 6, 2008, this giveaway is not available any more. You can download the trial version of this software at http://www.trisynergy.com/prod....
Terms and conditions

Please note that the software you download and install during the Giveaway period comes with the following important limitations: 1) No free technical support; 2) No free upgrades to future versions; 3) Strictly personal usage.
THIS SOFTWARE PRODUCT IS PROVIDED "AS IS" WITHOUT ANY WARRANTY OF ANY KIND, EITHER EXPRESS OR IMPLIED. WITHOUT LIMITATION, TO THE FULLEST EXTENT ALLOWABLE BY LAW, END USER ASSUMES THE ENTIRE RISK AS TO THE QUALITY AND PERFORMANCE OF THE DOWNLOADED SOFTWARE PRODUCT.