Giveaway of the Day - CryptoPics

June 16, 2012
CryptoPics (also known as Nonograms or Griddlers) are logic puzzles originating in Japan, in which the aim is to reveal a hidden picture by looking at the number clues. With this fully-featured software you can play pre-made picture puzzles, randomly generated puzzles and puzzles created from image files. It includes a built-in Puzzle Editor, allowing you to draw your own CryptoPics, a unique Challenge Mode, where you can play puzzles of increasing difficulty against the clock, and a mode based on Minesweeper. Additional puzzles to play with this software are available on-line.
This software was available as a giveaway on June 16, 2012, this giveaway is not available any more. You can download the trial version of this software at http://www.yarivh.com/cryptopi....
Terms and conditions

Please note that the software you download and install during the Giveaway period comes with the following important limitations: 1) No free technical support; 2) No free upgrades to future versions; 3) Strictly personal usage.
THIS SOFTWARE PRODUCT IS PROVIDED "AS IS" WITHOUT ANY WARRANTY OF ANY KIND, EITHER EXPRESS OR IMPLIED. WITHOUT LIMITATION, TO THE FULLEST EXTENT ALLOWABLE BY LAW, END USER ASSUMES THE ENTIRE RISK AS TO THE QUALITY AND PERFORMANCE OF THE DOWNLOADED SOFTWARE PRODUCT.
Featured titles:

The aim of the game is to flatten every grey square on the grid as fast as possible – the numbers tell you how many times each square needs to be hit before it's flattened.
The problem is that the mallet you use to hit them with isn't a very precise instrument, and it will hit several squares at the same time. What's more, hitting areas that are already flat would cause a dent and is not allowed, so completing the grid isn't as easy as it looks…
There are 10 different-shaped mallets of various sizes to choose from, and three skill levels: Easy, Medium and Hard, each with its own high-score table.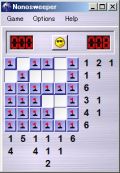 Nonosweeper is a freeware cross between the popular Windows game Minesweeper and the hidden-pictures logic puzzles known as Nonograms or Griddlers. Unlike Minesweeper, all the clues are given at the start and placed outside the grid, giving completely different gameplay – but the other rules are the same, so don't click on a mine or it's Game Over! You can upload your record times to an on-line database to see how you rank, and a Pro version is available with popular weekly tournaments and many other additional features.